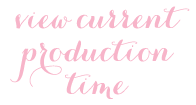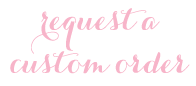 General

Please note all items are hand glued and stitched, often times with small details. Many designs are not intended for play, but instead created strictly for photo props or special occasions in which children should never be left unattended with items.



Payment
Paypal is only accepted at this time.

All orders must be paid in full before they can be started. E-check payments must be cleared before order can begin and may slow down turn around time.

Pricing for all custom designed items are quoted. Once design has been discussed and agreed upon, a reserved listing will be set up. To ensure appropriate turn around time for your need by date, immediate payment should be made.

It is possible to pay with Paypal without signing up for a Paypal account. Choose the Paypal payment option upon checkout. Then click the Pay Now button and you will be able to scroll down and choose to pay with a debit or credit card.


Refunds & Exchanges

Quality products and fabulous customer service are our top priorities here at Prop Shop Boutique We work very hard to give you great creations! Countless hours and attention to detail go into each and every item we create.

If for any reason you are not satisfied with your purchase, please contact and we will work our hardest to remedy the situation. We strongly believe that even the most undesirable situations can be solved and are happy to help in any circumstance.

If a return is necessary, please send back the item in its original condition (unwashed and unworn). Purchasing delivery confirmation is highly suggested as a refund will not be issued until item is returned. Delivery confirmation will protect both the buyer and shop.

Once the item is received in its original condition, a shop credit will be issued, minus shipping costs. You will have 6 months from return date to redeem shop credit. Under no circumstances will a cash credit or shipping cost be refunded. Buyer will pay both to and from shipping costs.

Returns will only be accepted if it is an error on the behalf of Prop Shop Boutique. All custom invitations are given final approval by client before submitted to our professional printing company. Refunds, exchanges are not acceptable in any case.

Unfortunately, due to their nature, requested altered designs are non refundable or exchangeable. There are absolutely no exceptions to that rule. Listed here in the shop you'll find examples of our own unique style that so many clients hire us for. After working out order details and approvals for materials, we use our best judgement to create items you will love and cherish, based on your own needs and requests; still, influenced with our style.

Credits will not be issued for items that have been exposed beyond limitations. Such as, If you have an outdoor event and the wind damages your items. Prop Shop Boutique will not be held responsible for the harsh acts of Mother Nature nor Adults who mishandle items which result in damaged goods.